Mini 40th Aniversary Auckland 1999
I am a member of the Mini Car Club of Auckland. We had a 40th aniversary celebration on the 28th August 1999. We held it in a carpark behind the North Habour Stadium on the North Shore. We were expecting between 300 and 500 cars, according to some of the committee members. I thought that this was optimistic. It turned out that about 250 cars turned up. This was very impressive. The largest number of mini's I've seen before was about 90 at the Palmerston North Nationals last year.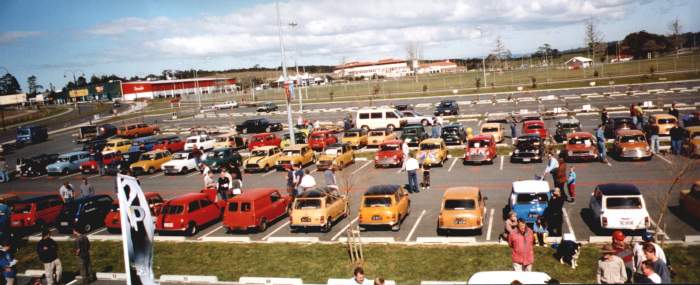 These three pictures are courtesy of Penny Brooks who drove all the way from Fielding to be here.

We had the facilities of BMW's truck. I'm not sure what the truck was for, but it was BIG, it had a generator, a platform on the roof, and a great big awening thing to stand under. Perhaps it was to promote BMW at events like this? It did a good job.

The other major sponser to turn up was Maguire's (spelt badly), an american polish company. We were also sponsered by Dunlop, Bridgestone, Racepro and some others that I've forgotten. They provided prizes for the various events.


We had a tyre changing competititon. 1:01 to take the wheel off run 5 metres to get another one bring it back and put it on. We had a wheel rolling competition, where you had to guide a wheel around a small course, and we also had a mini painting event. Nathan's mini was masked off and people were let loose with paint brushes and tins of fast drying enamel. An Austin Powers theme emerged. These pictures are also courtesy of Penny. They capture it's state about half way through the exercise. The car has been repainted on one side since the event s the assembled painters wrote rude things on that side. From a distance it looks rather good, and certainly eyecatching. It is only when you get close that you see it was done with brushes...
The show and shine competition was divided into the usual catagories. The one car that stuck out for me was a burgandy clubman with a turbo. It was very well presented, and had some interesting touches. The doors had clever handles, recessed into the frame in the B piller. There were no locks. The boot had no handle at all. I didn't get to talk to the owner unfortunatly. I didn't get a picture of the door handles either :-/


There was a lengthened mini with about two and half minis cut up and stuck together. It had the front of a mini cut just behind the B piller. Then it had the front of another mini cut in the same place and the two were welded back to back (think of those cars with two fronts). The front of the back mini was cut off and the back of a third mini welded onto that. I don't think this was the order that it was done, but that is how I'm describing it. It had 4 doors, two in the normal position and two opening the other way behind the front ones. It had seating for at least 6 inside.


There was a shortened mini, so short that the rear wheels were inside the doors. It has an engine as powerful as mine in it and according to the owner handled brilliantly. Murrey Lockie has driven it and says that it is diabolical. Apparently you put your foot down and it changes lanes.... He was very scared driving it. In fact he said he would feel safer dirving with me than driving in the shortened mini! That's saying quite a lot. Unfortunatly, that guy got in the way with his sholder just as I was taking the picture. You can't see it, but the back wheel is partially inside the door.


There was a 6 wheeled ute based on a normal mini ute. It had a vertical exhaust coming out behind the driver, and a wooden bed significantly wider than the rest of the car.
We convoyed to the Domain, probably about 10 or 15km away. We got many amazed looks, and caused a HUGE traffic jam in the city. We drove down Cook street, into mayoral drive and down Queen street, what could be called the main street of central auckland. It took a VERY long time to get down queen street as we'd jamed it up very well. We went round and round the domain a few times and filled up the carpark and stood around talking for a while before going home.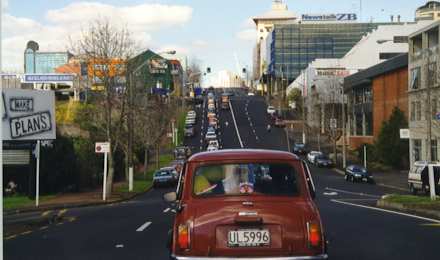 We had a dinner in the evening but not many people turned up. There was food and cake and a bit of dancing to bad music. The cake was good. In fact I've still got some :-)

I've got Sky TV's raw footage from their coverage of the 40th celebrations. I'll bring them along to next week's clubnight. I haven't viewed it yet, as I don't have a video player at the moment :-/

The nationals at Palmerston North were a bit chaotic with 90 or so cars, and it was there was only just enough time to do all the motorkahna and speed events. I don't know how we will cope next year when we hold the nationals.